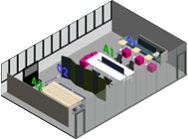 How often do we hear employees saying, "I can't concentrate," and "It's too loud." The most common symptom of bad acoustics is the frequent or constant distraction from conversations.
When employees are distracted, they are less productive, make more errors and are less satisfied in their work. We offer a collection of creative sound absorbing and sound diffusing products that will help you improve acoustic balance and reduce the reverberation in your workplace or any place where you want to create balanced and pleasant acoustic levels.
AFA Members Zenith Interiors have designed several the various treatments to rooms so you can hear the difference acoustics make to an office environment.
Check out how you can improve and reduce the reverberation in your workplace by adding acoustic products.