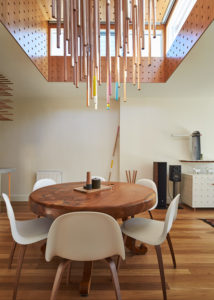 WOW! will be your first reaction when you see what FMD architects (and builder/carpenter) have created with AFA Members, Porta's un-sung hero DOWEL.
"The timber dowel has become an unlikely design hero in this Melbourne home renovation, being used as both a decorative chandelier and as display ledges in this project by fmd architects. "This humble material is elevated to a higher level, blurring the boundaries between the functional, the decorative, " one of the principle architects Fiona Dunin says. "It forms a constant dialogue with the ever-changing art collection on display for a client with lots of art."
"While exploring the functional opportunities of opening and closing the windows in the skylight and how to shade the spot, the use of the timber dowel was selected as the material of choice," Dunin says. It acts as both a rod to open the louvres as well as a decorative chandelier over the dining table."
To see the Porta Dowel range click here 
Story first featured in homes.ninemsn.com.au, read full story and view image gallery here