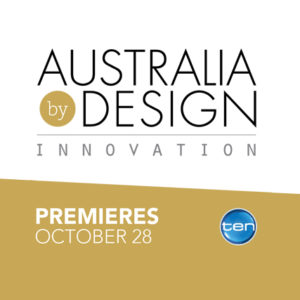 Good Design Australia is proud to announce their series partnership for a new television show currently airing on Channel TEN.
Australia by Design Innovation aims to bring good design into the hearts and minds of all Australians. Reminiscent of popular shows such as Beyond 2000 and The New Inventors, Australia by Design Innovation will feature eight different design innovations across six episodes, with the best projects going through to the final episode and showcased as the Top 10 Best Innovations of the Year.
Alongside renowned Australian architect and Good Design Awards Judge, Tim Horton, key presenters include Dr Brandon Gien, CEO of Good Design Australia and Terri Winter, Founder of Top3 by Design and longtime member of the Good Design Awards Jury.
Australia By Design Innovation first episode aired on Channel TEN at 2:00pm on Sat 28 Oct and was repeated on ONE at 3.30pm on Sunday 29, Oct and will be on the same schedule for the next six weeks.If you missed it on the last two weekends, you cant view it on Tenplay, so you are ready for this weekends episodes!
Read More https://www.good-design.com/australia-by-design-innovation-television-premier/?mc_cid=364b2e9168&mc_eid=505ae32282