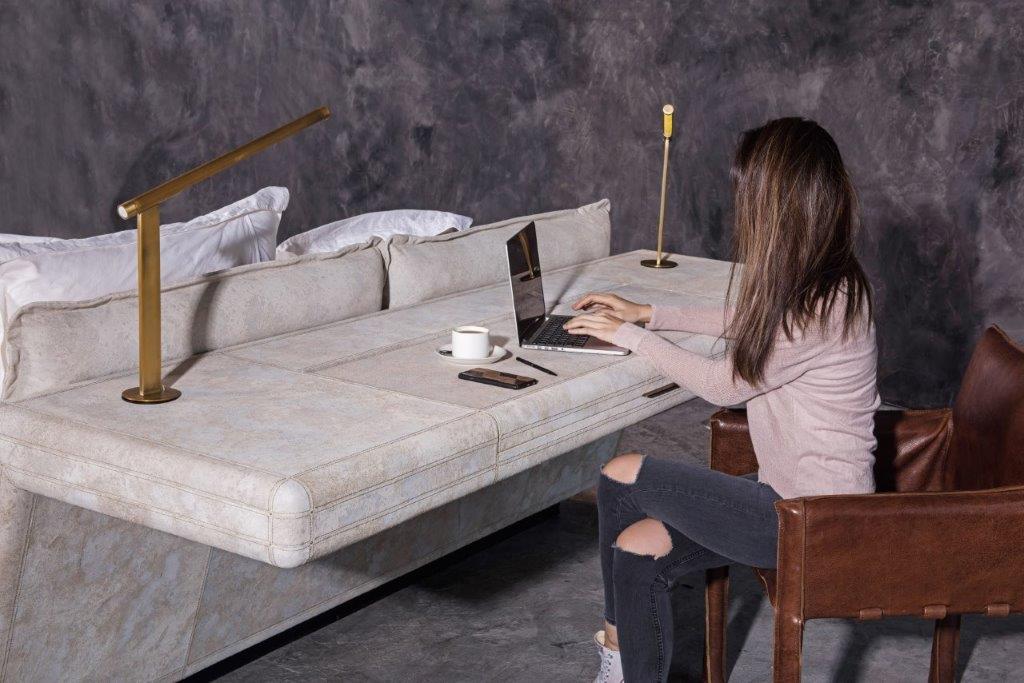 Design Inspiration
Our bed is our island, an everyday retreat from the stormy world. Meticulously covered by hand in hand finished leather, Atoll's curved lines merge from a divan into a cantilevered desk with moveable lamps and concealed storage. The concept was to create a freestanding bed with integrated desk, side tables and lighting for use in both residential and contract projects, the piece needed to be distinctive, grand and easy to use, hand crafted with luxury finishes.
The veined stone side tables are connected to the bed via rotative slim brass arms, these can be pulled forward when in use or pushed back when not needed. The two led rotative desk lamps can be pivoted 180 degrees to also be used as reading lights when in bed, each lamp is finished in aged brass with curved stone insert and elegant on/off switches.
The frame of the bed and desk is wrapped in a wrecked white leather with detailed stitching that highlights the soft curves of the beds profile. The top of the desk opens up to reveal generous internal storage and provision for plug sockets and electrical wires.
Design Solution
A new type of furniture who combine a desk and a bed with various functions relatives to the use of this furnitures.
Size
180cm x 300cm
Materials Used
Wood Frame, leather, marble, plated brushed brass, fabric.
Green Notes
Use of LED, packaging in 3 parts.
Processes used in construction, including any new construction methods or applications adopted from other industry technologies 
An incredible mix of different techniques, from leather stitches to lighting and rotative furniture elements to Bed technologies.