The Australian Furniture Association's key energy partner, Energy Action, last month reported some very promising downward movements in electricity prices NSW, VIC and QLD for all calendar years.
Energy Action reports that this month, all calendar years for all States have seen further downward movements. NSW, compared to last month, is down by $80/MWh and QLD is down by over $70/MWh for Cal 2023 contracts.
These reductions have been caused by the Federal Government's recent announcement regarding energy market intervention. The details of this price capping are yet to be released, however, we've already seen the market react to the announcement by lowering prices by 25%-30% in the space of 3 trading sessions.
Victorian prices have also fallen significantly since the Government's announcement. If you require electricity contracts in Victoria, wholesale prices for the latter years 2024, 2025, and 2026 are now as low as $65/MWh for 2024, $70/MWh for 2025, and $65/MWh for 2026 contracts.
The table below puts the downwards movement in the market across the Eastern States into perspective with a comparison to November's prices.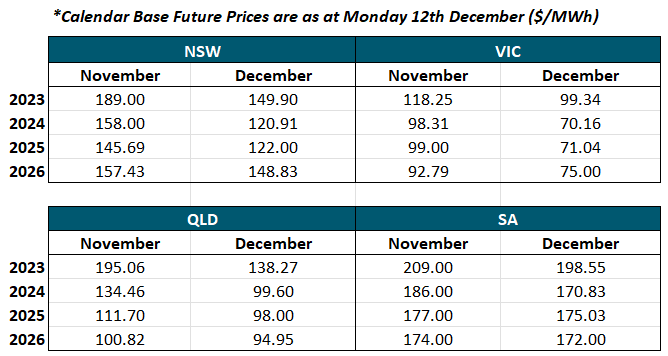 The graphs below represent 2023 contract prices over the past 12 months. Prices for other contract years are available from ASX Energy.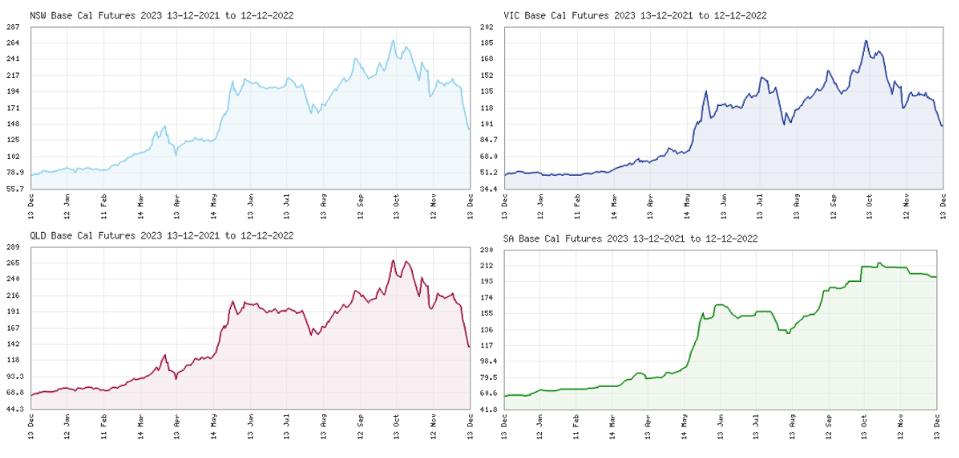 Contract now for 2024
We expect electricity market prices will not remain at current levels and encourage customers to consider contracting for 2024, 2025 and 2026 during early next year.
Click HERE to speak with an Energy Action expert and protect yourself from any future market volatility.