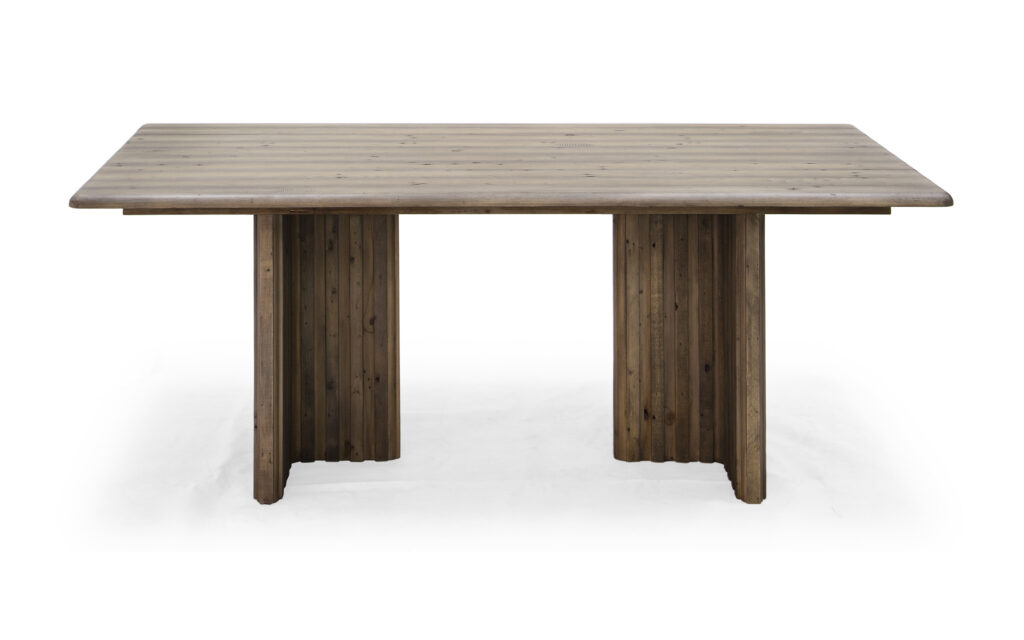 FINALIST IN – Master Designer – CRAFTSMANSHIP
Designed By – Ian Burden
Business Name – PGT-Reclaimed
Website – www.pgt-reclaimed.com.au
Design Inspiration
PGT-Reclaimed is a lifestyle furniture designer and manufacturer, begun by founder, Australian Ian Burden in 1998. The company prides itself on creating sustainable lifestyle furniture using 100 percent Forest Stewardship Council certified reclaimed wood.
The Lineo Dining Table was designed as part of PGT-Reclaimed's 21st anniversary collections. In 2019, after many years of designing colonial-styled functional furniture, Ian made the decision to create more modern-styled furniture for today's consumer.
As PGT-Reclaimed's products are currently sold in almost 20 countries throughout the world, including in Australia, it is intended for Lineo to also be popular in many countries appealing to those who are interested in sustainable furniture, with a unique style.
Design Solution
The Lineo Dining Table seats eight people, which is an excellent solution for a family of eight, or a household that wants to entertain.
Size
L 203 cm x W 95 cm x H 76 cm
Materials Used
100% Reclaimed wood
Green Notes
The Lineo Dining Table is part of Ian's vision of producing furniture with limited environmental impact, through using reclaimed wood, but also finishing the product with one of PGT-Reclaimed's most recent finishes, Summer Hay, created using 100% water-based materials. Beyond this, PGT-Reclaimed's by-hand carpentry methods include no use of robots, which conserves energy, and packaging made from mostly biodegradable materials.
Processes used in construction, including any new construction methods or applications adopted from other industry technologies 
There are two key features of this product which used English carpentry construction methods contributing to the table's look and how it connected strongly on the T-shape legs. The top section of the Lineo Dining Table has a curved edge, which can only be completed manually by hand, with a technical team required to determine the exact radius of the surface, and have all four corners match.
The most careful worker was selected to manufacture the product, because any sudden movements would affect the look of the edges, affecting the overall look and feel. The T-shape legs were made using stripped wood panels close to the same size (around 32mm wide) which take a long time to source in a similar colour. The curved edges took some time to craft together and required a good craftsman to build the leg section to ensure strength. The unevenness of the surface, finished with a skin wood technique also added to the finishing time, as the surface must be sanded between each stain to raise the grain to achieve the 3D effect.
After the first sample was completed, we discovered that the T-shape took up extra room during transport, so the technique was restructured to allow the table to be packed down for ease of packaging and transport. We were able to maintain a beautifully styled product, while saving transport costs.