A Canadian designer has allowed his whimsical imagination to run wild with a line of furniture that looks pulled directly from one of Walt Disney's animated classics.
Judson Beaumont, 52, of Vancouver has designed dozens of eye-catching custom pieces, including a cabinet that looks like a half-eaten apple and a kid's dresser shaped like a carrot.
"My rule is: if you can draw and design it, you can build it," Beaumont says on the website for his company Straig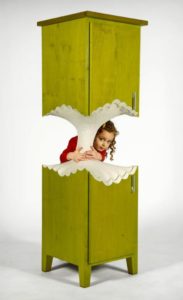 ht Line Designs.