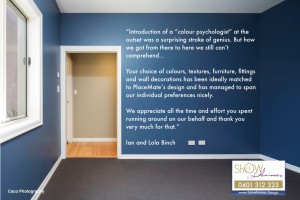 Step into the fascinating world of Colour Psychology with Award Winning Interior Decorators, Taryn Whitaker and Tracey McLeod, and discover a foolproof process for finding the ideal colour palette for every home and business.
The powerful properties of colour are widely known to affect all areas of our lives, including health and happiness. Yet how we respond to colour is individual to each of us. This is why, over seventy percent of home owners opt for some version of 'white' in their home decor - they are afraid to make the 'wrong' colour choice.
On the other end of the spectrum, in the commercial space, colour is splashed liberally with little or no awareness of it's powerful properties.
The Neutral Dilemma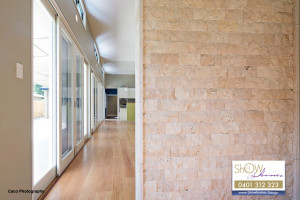 Colour is biggest quandary for home owners when making cosmetic or structural changes to their homes. At some point, the home owners are going to be selecting a colour palette for their project.
Many believe its safe to go with 'neutrals' but, technically speaking, 'neutrals' consist solely of black, white and grey. That's it! There are no actual colours present in the neutral palette. The term neutral is incorrectly applied to colours like beige, off-white, bone, tan, cream and taupe.
So how does the hapless home owner start, given that there are so many colours and neutrals to choose from? They could go to the fallback position of white, but virtually every paint colour, including white, is tinted with a cool or warm base colour. Cool tones have added black, grey, blue or green tints, while warm tones have a base of yellow or red.
Of course, the home owner can simply go with a colour they 'like', but will the other family members like the same colour? Usually, because colour is such an individual choice, the answer is no, or, not exactly.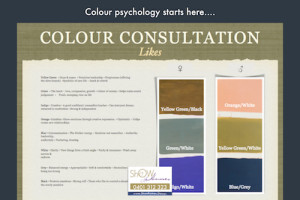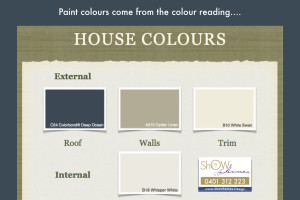 "Life in Full Colour" - The Corporate Conundrum
In 2011, Telstra introduced a range of coloured logos to position the communications giant as a multi-faceted service provider.
Interbrand, part of the DDB group, was given the task of rebranding. It took 60 staff, several months and a budget of more than $3m. It was decided that the Telstra logo and tagline would continue unchanged. So the ad agency's time and talents turned to creating a new colour palette: orange, green, turquoise, blue, purple and magenta. At the time, Telstra described the multicoloured logos as "experimental"..According to their description, it was up to the viewer to decide what they see in it.
What was the ad agency's reasoning behind the shotgun spray of colour? Was each colour intended to relay a hidden massage for consumers: orange for social communication, green for decision making, turquoise for self-expression, blue for trust, purple to denote a superior product, or magenta for common sense? Apparently not. The colours were chosen because they are the colours of the telecommunications cabling - nothing more.
If you think it's hard for major corporations, just ask the world's major paint companies how we should select colours. They suggest a range of imaginative, but not very helpful ideas, finally settling on the 'you can't stuff this up too badly' option of offering a range of preselected colours that go well together.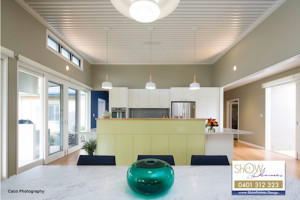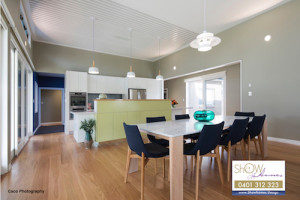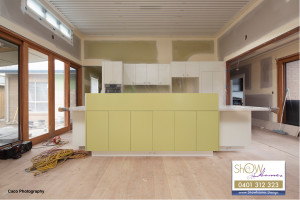 Enter Colour Psychology
Wait a second, if nobody can predict what colours we should select, then how can professionals help struggling home owners?
Two Words - Colour Psychology.
Colour psychology is the study of colours on an energetic level, it's about the universal meanings of colour and the effects they have on every one of us. Colours are sent to our eyes via vibrational rays, which are technically invisible, like microwaves. It may seem strange to think that anything to do with colour could be invisible, but not when you consider that most of our response to colour is unconscious.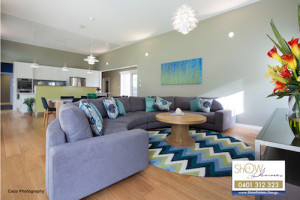 Having used colour psychology readings as the starting point for every home project over the past four years, Tracey McLeod and Taryn Whitaker have seen this powerful tool in action.
"Colour psychology transcends language," said Tracey McLeod, from Showhomes Design.
"We have had clients whose first language wasn't English and have been able to uncover their colour preferences in a few minutes. This would have taken months to learn by conventional means."
The colour meanings tell their own story.
"We have seen family issues in the colours our clients select; a teenage son craving for his absent father's attention; a woman grieving because she was unable to have children…" explains Taryn Whitaker from Assorted Spaces.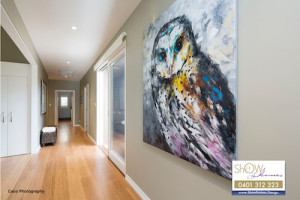 The decorators have saved families in crisis using this powerful tool. In one, a family member was suffering from severe depression. Unbeknownst to his partner, he was unable to stand the existing wall colour. Without the colour reading, the partner would have chosen the existing green wall colour throughout the home. Meanwhile, the unwell family member was prepared to paint their private space an isolating, cold white. These simple colour choices would have torn the family apart. The colour psychology reading was unable to uncover a colour scheme that nurtured both partners and their two children.
Colour psychology is an emerging area of study amongst design and decorating professionals which is set to explode in coming years. It teaches the professionals simple ways to uncover their clients' colour likes and dislikes and the meanings behind the colours chosen.
Overall, understanding colour psychology will lead to home owners and professionals making braver colour choices which will filter into the textile choices of the future.
From 'neutral' beginnings, a world of colour awaits.
Tracey McLeod is an internationally recognised Interior Stylist and the Director of Showhomes Design, Founder of Presentation Sells and former President of the Queensland Interior Decorators Association (QIDA).
Taryn Whitaker from Assorted Spaces is a qualified Interior Design Decorator having studied Interior Design & Decoration, Colour Psychology and Project Administration through Beaumont School of Interior Design.
Both operate out of Australia's Gold Coast.