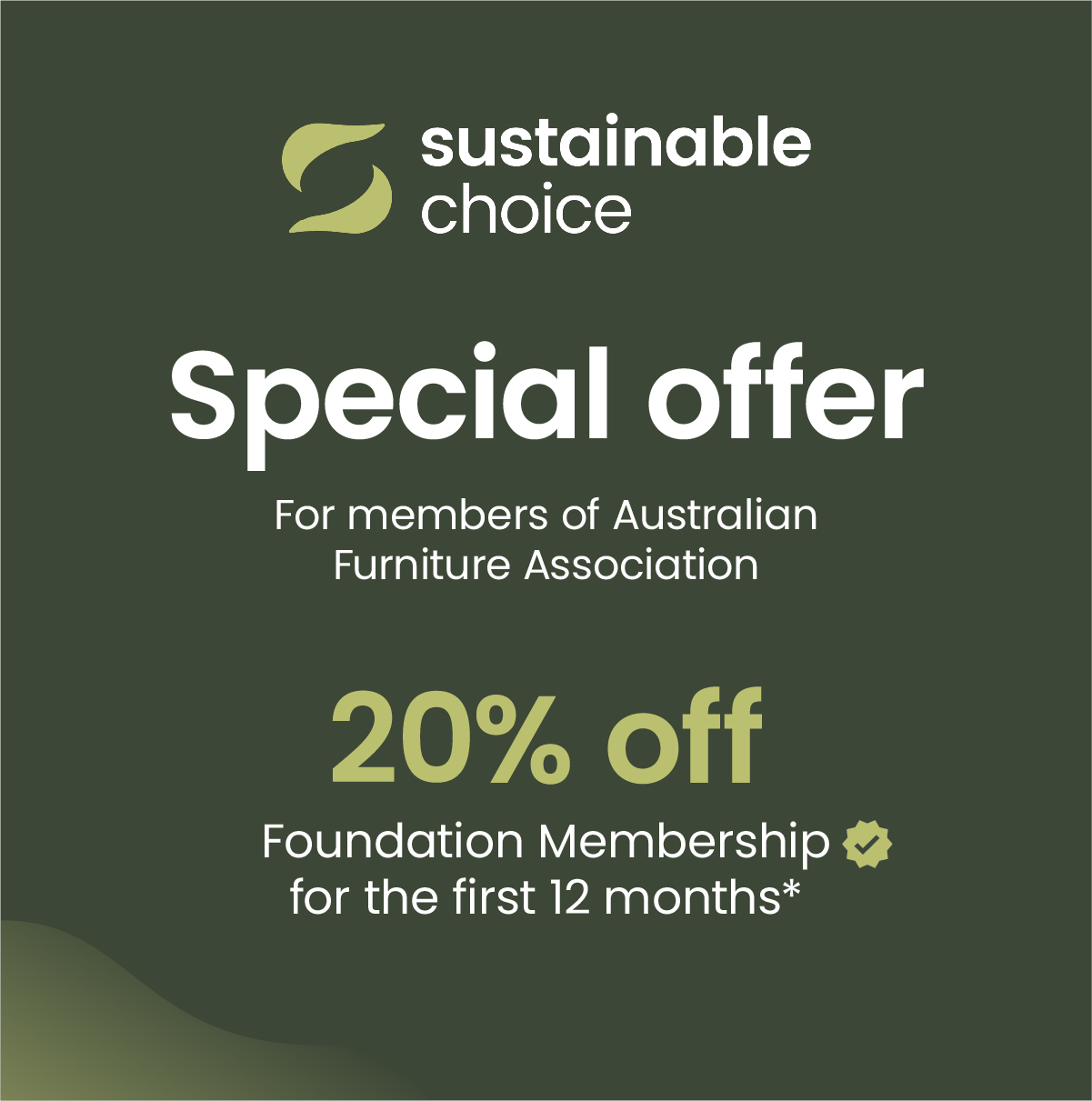 The Australian Furniture Association (AFA) supports third-party certification and product stewardship, and works tirelessly towards ensuring that all furniture and furnishing businesses have an appropriate chain-of-custody or material passport claim through its supply chain.
It has never been more important for businesses to demonstrate tangible action and accountability through honest and accessible communication.
As a Sustainable Choice Verified Member, the Australian Furniture Association also practices sustainability because it is crucial to highlight the end-to-end traceability of a brand's product or service across the entire production lifecycle, in a way that is clear and easy to understand.
To help accelerate the ongoing development of transparent sustainable business, the Australian Furniture Association is proud to share its Sustainable Choice digital platform with AFA members. The online platform simplifies ESG communications for businesses where It's easy for brands to track, publish and substantiate their sustainability credentials transparently.
In addition, Sustainable Choice has offers brands who are members of the AFA a 20% discount* to build their unique sustainability profile with ease. AFA Members are encouraged to get involved, publicly display their AFA membership, provide more detail on why an AFA membership positively impacts on their environmental sustainability policies, and take the guesswork out for everyday consumers.
The offer:
20% off Foundation Membership for the first 12 months* Saving your business over $1000.
Plan includes:
Full Sustainability Profile
Verified Membership
Use of Foundation Member Badge
One-touch QR codes
Digital Extras
Find out more: HERE
or visit hello@sustainablechoice.com
Ts&Cs:
*20% discount only valid for the first 12 months of Sustainable Choice membership. Available on Professional and Enterprise memberships. Upon signing up, Sustainable Choice may need to ask you for additional documentation to substantiate your eligibility. Special offer ends 31 March 2023.