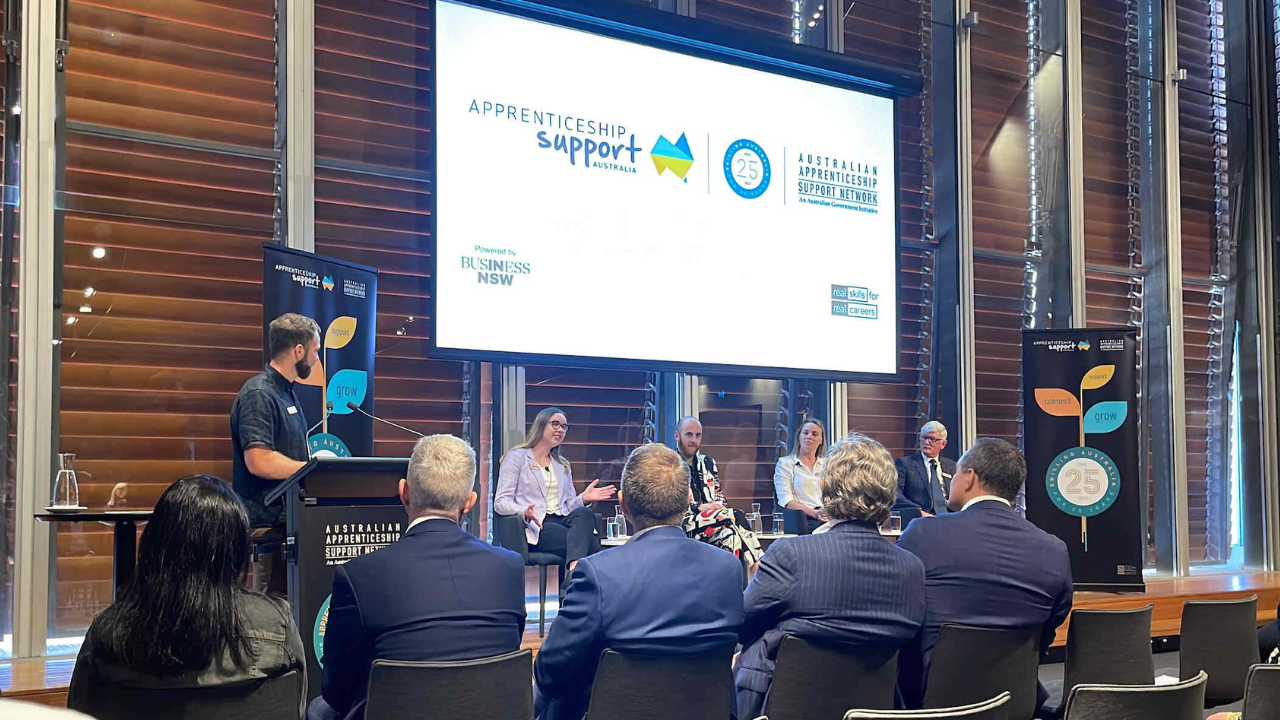 The Australian Furniture Association attended the 25 year celebration event for Apprenticeship Support Australia in Sydney. With over 70 years collective experience, Apprenticeship Support Australia delivers skills, development advice and solutions to businesses to job-seekers across Australia. Their focus is increasing apprenticeship commencement and completion rates, through provision of support at every stage of the employment cycle.
Dan Lafranchi attended the event on behalf of the AFA.
Aunty Norma delivered an insightful welcome to country and discussed battling the stigma that Tafe is the lesser choice for tertiary education.
Throughout the day, we heard from speakers such as:
Hon. Timothy (Tim) Crakenthorp (Minister for Skills, Tafe and Tertiary Education and Minister for the Hunter Member of the Australian Labour Party), whom unpacked the challenges that lay ahead for the current crisis of skills shortage across the nation. He believes that the solution lies in partnership and collaboration with businesses and the wider community, focusing on longterm and emerging industries and creating and enhancing an education system that is available to all who want to learn. The AFA are set to meet with TIm to forge better outcomes for furniture manufacturing.
Daniel Hunter, Business NSW CEO, in which Daniel discussed multiple topics including providing opportunities to more people of diverse backgrounds, and that there has never been as many options available as there currently are and the importance of attracting and retaining apprentices. The AFA will continue its strong relationship with Business NSW to ensure members have access to events that enhance their business acumen.
Peter Gilchrist, Executive Director of Australian Apprenticeships and Support Centre – who gave an overview of what the apprenticeships sector in Australia currently looks like, with over one million apprentices this year alone and the importance of investing in our apprentices.
There was also a lively Q and A panel which included current and past apprentices, who offered insight on:
Helping to breakdown the stigma that vocational pathway is a 'lesser' direction than tertiary studies
Demonstration of the vast support that is available to apprentices
The responsibilities of business – what it takes for a business community to raise an apprentice and all that has been learnt in the process
A mindset shift and re-education is required by the broader community – apprentices are not just cheap labour, they need to learn and are the next generation of skills
Engaged apprentices make passionate teaches
A focus on reaching regional prospective apprentices is required
Attending events and hearing the perspective of speakers, such as from this event, is extremely important to the AFA and we endeavour to bring our members more key learnings and updates from future events attended.
For any event suggestions that you would like to see the AFA's presence at, please send us more information HERE
To our NSW MEMBERS – NSW Small Business Month is coming up in October 2023. To keep updated with upcoming activities and updates, visit HERE
and sign up to the newsletter HERE.