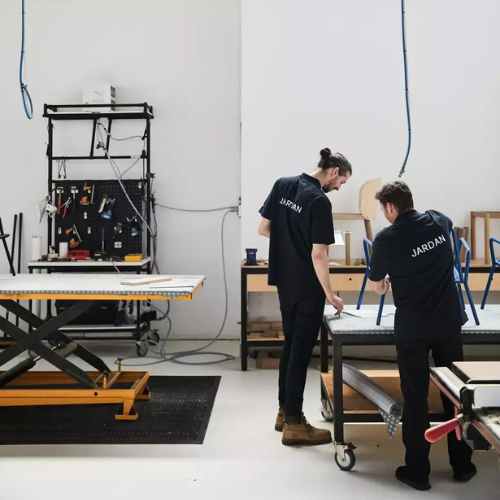 The Australian Furniture Association are proud supporters of the Australian manufacturing industry and are actively campaigning with various projects to ensure that the industry not only survives, but thrives – now and for future generations.
Many AFA Member organisations are incredible, shining examples of how local businesses can be wildly successful and choose to manufacture within Australia rather than take manufacturing off-shore.
Some of the major benefits of local manufacturing include local job creation, better quality control, faster turnaround times, greater control over supply chains along with the ability for more flexibility, customisation and innovation.
The AFA want to highlight some of the amazing things our members are doing and how it is benefitting the local community within Australia.
AFA Member, Woods Furniture, are a leader across the furniture industry not only because of their quality products, but the fact that they are people focused. Their mission is to 'protect our planet and our children's future.' A big goal, but something the company is very passionate about and is the driving force behind all business decisions.
The AFA team visited the Woods Furniture manufacturing precinct and were suitably impressed with their operations – the huge factory is well lit, clean, organised, with impeccable attention to detail. Managing Director, Tony Rogers, says that once clients come through their doors and see the behind the scenes operation, they don't miss out on an order… it's that impressive.
Taking a tour of the facility, visitors will see everything is set up to be as efficient as possible, with top quality equipment and innovative products/technology to ensure the manufacturing process is as smooth as possible.
Based on the sheer quantity of orders the company is receiving, Woods Furniture spoke to their local suppliers about how they can work together to cater to this increase in demand. One of their suppliers had an empty plant that was not being used, which has now been fully fitted out solely to cater to their needs. Woods Furniture easily could have spoken to overseas importers to fulfill their needs but chose to keep it local and choose Australian first and made products. Woods Furniture are a company that live by their brand ethos.
The AFA team also visited AFA Member, Jardan, contemporary furniture designers and manufacturers focused on sustainability. The AFA Team toured the new home of Jardan – which is not only an office and show room to display their latest innovative designs, but the manufacturing hub all of their designs.
Jardan are focused on creating quality furniture that is 'good for the environment' and will stand the test of time. With no signs of slowing down, the company produces a prolific amount of furniture for vast range of applications. The Jardan logistics hub is human focused, to ensure a smooth, efficient operation. Employees are assigned their own stations and often collaborate with the Research and Development team to ensure that the design team's creations and vision can be realised and manufactured efficiently.
The AFA truly believe that local businesses have what it takes to rebuild the Australian manufacturing industry, and both Woods and Jardan are just a small sample of companies that are doing it well. If you would like to learn more about increasing your manufacturing capacity within Australia, and need some help achieving your goals, get in contact with our team at the Australian Furniture Association.
Alternatively, if you are a local business applying innovative manufacturing processes within Australia and want the AFA Team to visit, or want to connect with other AFA Member companies, we'd love to hear from you.
Contact: care@theafa.asn.au