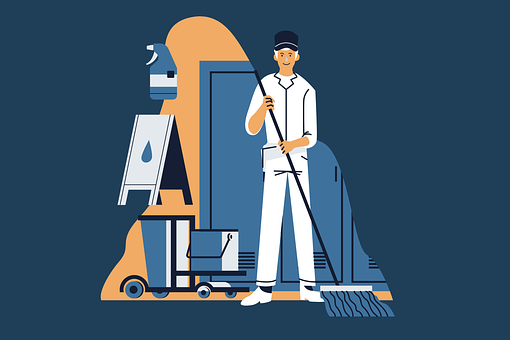 Cleaning – COVID-19 mandatory work health and safety requirements for businesses.
Gone are the days when all you needed to worry about was emptying the bins and cleaning the bathrooms once a week.
The coronavirus pandemic has brought about a new standard for hygiene in the workplace as well as mandatory health and safety requirements for businesses. Contact Trilogy for advice and support.
Everyone has the right to be safe at work, including during the COVID-19 coronavirus pandemic and employers must take all reasonable steps to make sure that the workplace is safe for everyone.
The COVID-19 pandemic has created an unprecedented situation for everyone.  It is understandable that business operators may have concerns about how to continue to meet Work Health and Safety duties.
There are a number of practical steps you can take to manage the risk of exposure to COVID-19 at your workplace and meet your legal obligations.  All businesses with on-site operations must now have a COVID Safe Plan.
This plan must demonstrate your actions in maintaining a COVID Safe workplace including principles such as practicing good hygiene and cleaning regularly.
When and how often your workplace should be cleaned and disinfected will depend on the outcome of your risk assessment.
It is highly recommended by Safe Work Australia that workplaces are cleaned at least daily.  More frequent cleaning may be required in some circumstances.
For example, if your workplace operates in shifts, workplaces should be cleaned between shifts.  If equipment is shared between workers, it should be cleaned between uses, where practicable. And of course, if there is a breakout at your premises a deep clen is obligatory. Contact Trilogy for advice and deep cleaning services. AFA Member discounts apply.
As the world recovers, businesses need to protect staff and customers during and after reopening.
A key way you can protect workers and others from the risk of exposure to COVID-19 is by implementing appropriate cleaning and disinfecting measures for your workplace. Contact Trilogy for advice and support.
Safework Australia has provided a short video to help you understand the process. Cleaning – COVID-19 work health and safety – YouTube