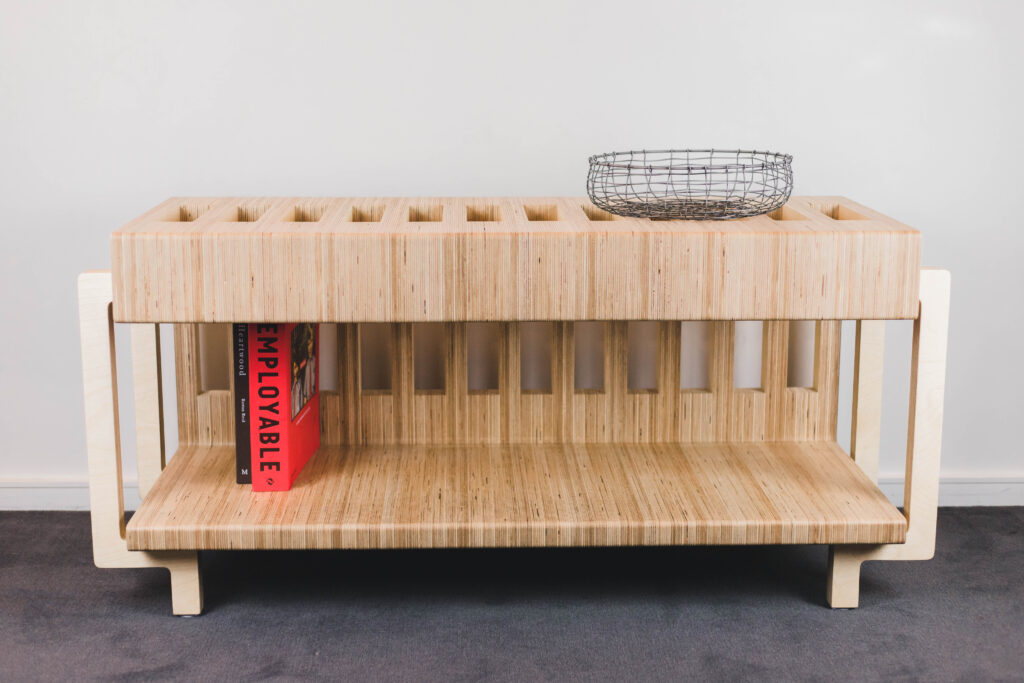 FINALIST IN – Student Designer – CREATIVE VISION
Designed By – David Tonini
Registered Training Institution – Box Hill Institute, Victoria
Design Inspiration
We were required to complete the unit Set Up, Operate and Maintain CNC Machine and Production Centre, as part of our Certificate III Furniture/Cabinet Making course. This normally requires you to follow a basic copy and paste of a set project. Upon undertaking this unit, I felt it struggled to give us a comprehensive understanding of the programming process, so we challenged ourselves to design our own concept within the existing unit criteria, in order to gain a thorough understanding of the process.
We were required to produce an Entertainment Unit using manufactured board with with the use of the CNC Machine. We had to demonstrate an ability to set up, program and run the CNC. The concept of the design was intended for my personal use.
I wanted to develop the idea and concept of easily assembled furniture, that could potentially be flat packed and marketed towards people living in the rental market. I wanted the piece to have a modern feel and make a feature of the ply's end grain.
Design Solution
Upon completing the end product, I feel like I now have a comprehensive understanding of the CNC programming and operating process. The finished entertainment unit makes a exceptional feature of the ply's end grain.