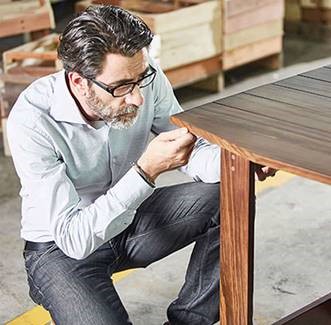 Say hello to our member, Manolo Bossi.
This week the Australian Furniture Association would love to showcase one of our International members, Manolo Bossi – Design Studio.
 Manolo is a designer and manufacturer based in Verona, Italy. He shares his time travelling between Italy, Malaysia and Australia.
Essentially self-taught after a short course in Industrial Design at Domus Academy in Milan, he was 28 years old when he designed his first ceramic and interior decoration products for Bosa and Progetti. He has created collaborations with Sphaus, Caoscreo & Skitschm and FLOS.
The AFA received a request in 2022 from another AFA member seeking to work with international designers on a new range of products. "We love the fact that our members are adventurous and always looking to find new ways to design outstanding, quality and innovative designs for Australian living" says AFA CEO Patrizia Torelli.
The AFA put out a call for expressions of interest for International Designers and was pleased to receive a number of applications from world leading practitioners.
The process that followed was to introduce the local member to the designers so that they could perform the necessary 'getting to know you' phase, before making the final selection.
Manola was selected as the design consultant by Australian furniture retailer, King Living, and was tasked with the privilege of mentoring the next generation of designers.
Manolo has won many awards for his designs and products, including:
– Best Product Design Award with Zix Table/Chair
– Malaysian Furniture Creativity Awards: First and Third Prize
He has also won first place in the Green Furniture Award in Stockholm 2009 and was featured in their publication. Ferrari Formula one even chose Manolo's Wallclock Barcode to add to their motorhome in 2002.
Manolo is well versed in producing quality, artisan products. He likes to focus on the end result – that the user will want beautifully designed, quality products.