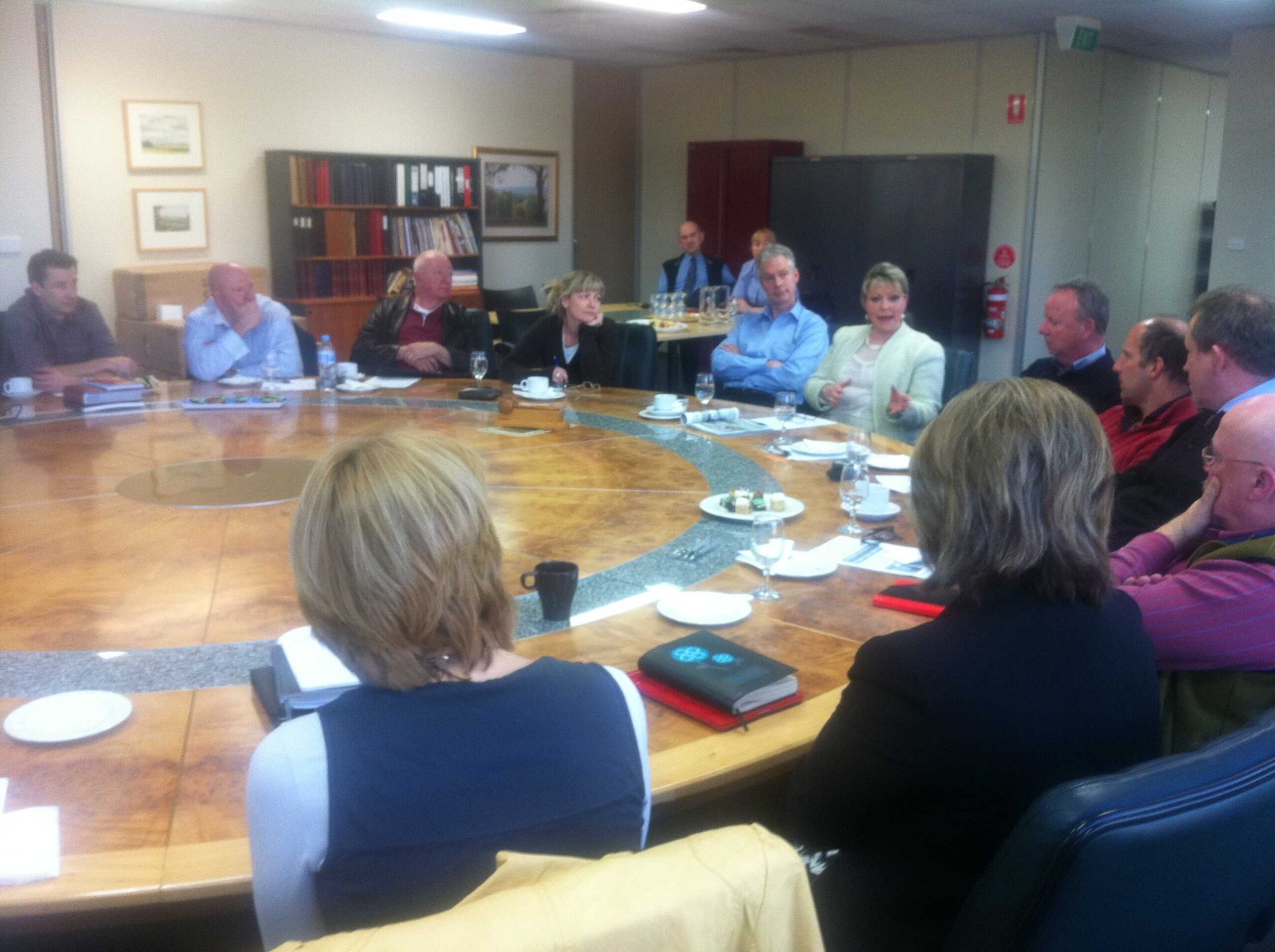 In 1998, the Australian Furniture Association, was governed by a council of twenty from across the nation. At the heart of the Council Meetings was a one of a kind designer Boardroom Table fit for the Knights of the Roundtable.
This boardroom table is an amazing piece of work created by well-known Australian designer and maker, Gerald Easden and manufactured by David Saward of Saward Joinery, to accommodate the Councillors and a place for them to 'come together and meet in the middle'.
Suitable for a Corporate or Commercial setting, the unique table is impressive in size and construction, using only the finest materials and engineered to perfection for dismantling and easy handling. The top measures 4.2 metre in diameter, with the 2.6metre diameter base made up of 6 equal polished stainless-steel segments separated with a 10mm thick polished brass strip.
Gerald's design philosophy was based on how the council operated for the benefit of the members, all taking their place around the perimeter edge made in solid Australian 'Silver Wattle' timber abutting 20 'Red Gum' veneer spaces. Each councillor separated by a linished brass strip representing the 20 viewpoints. When seated each Councillor was faced with a 200mm wide band of Australian 'Harcourt Granite' representing a barrier to be crossed.
'These were important times in our industry,' says Gerald. 'Consideration had to be given to each Councillor's contribution, however the design of the meeting place was created to provide an environment where Councillors working together side by side could overcome the granite barrier and move together over the large Australian 'Red Gum' veneer spaces towards the centre.'
A 600mm diameter polished brass disc is centrally built into the table. 'My philosophy was the by representing a shining light of learning and information to the centre of the meeting space, all Councillors could learn from each other, exchange ideas and philosophies then return over the granite barrier with a greater strength from working together', continues Gerald. 'They would then take up their original seats and use their greater understanding to move forward in unison,' he concluded.
Easden was a multi award winning designer, winning over twenty Good Design Awards and awarded "Modern Icon" status of Australian Furniture by the Australian Furniture Association in 2013. He was elected a Fellow of the Design Institute of Australia in 1997, awarded a DIA Gold Citation in 2002, and inducted into the DIA Hall of Fame in 2018.
The table sits proudly in the head office of the Australian Furniture Association and is infrequently used by guests for formal and informal gatherings. 'This beautiful piece of design and craftsmanship deserves pride of place in a magnificent setting,' says AFA CEO Patrizia Torelli.
'We also recognise the value of its significance, both as a historical expression of Australian ingenuity and magnificent use of materials which is deserving of a prominent setting for this outstanding piece of Australian history that draws comments by one and all who have the opportunity to view it.'
Learn more about Gerald Easden HERE
Genuine Buyers of this iconic Easden boardroom table, please contact strategy@theafa.asn.au