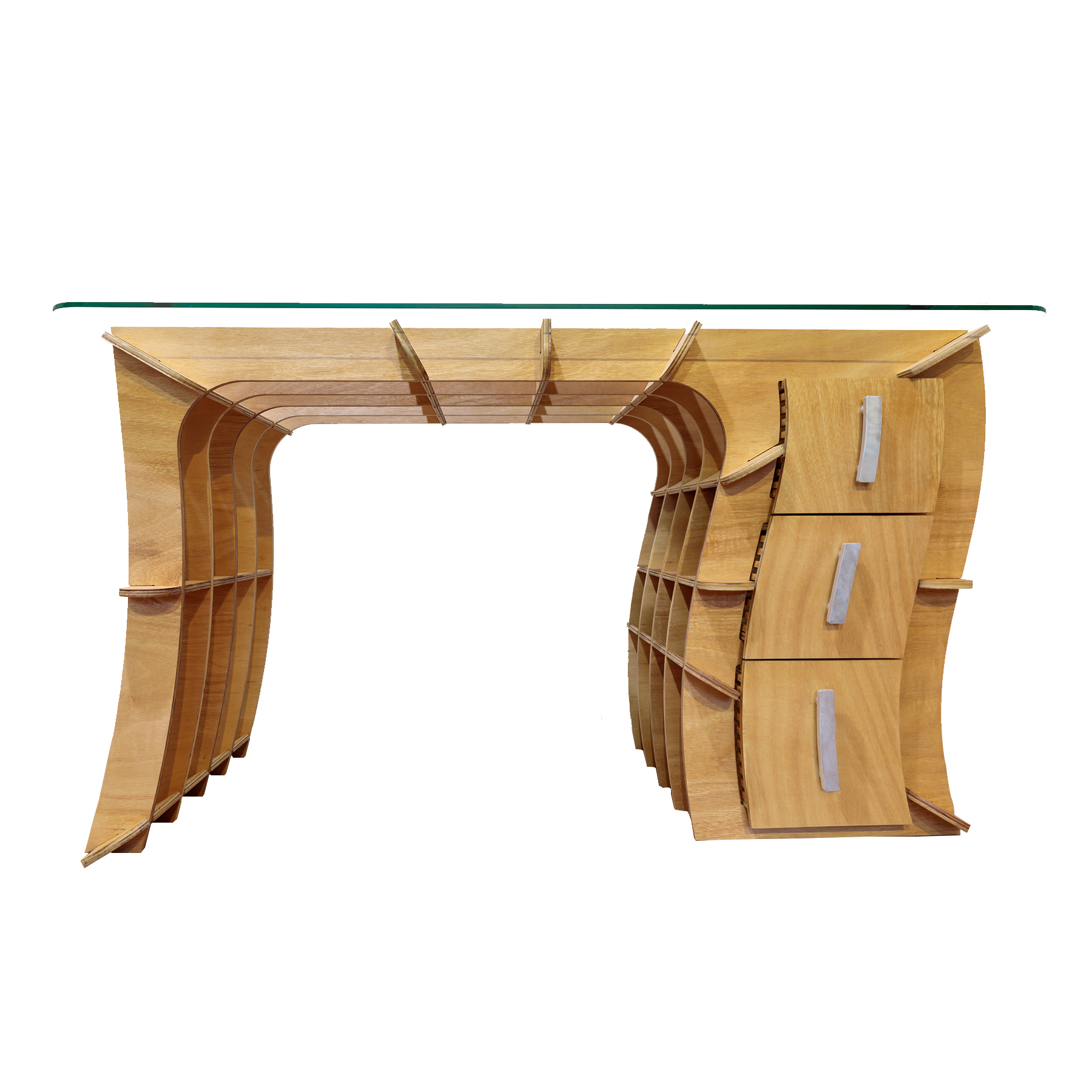 FINALIST IN – Emerging Designer – CREATIVE VISION
Designed By – Angus Stevenson
Business Name – Agusi
Design Inspiration
Perspective was designed and built by Angus Stevenson. It was designed for a market that appreciates functional art and was created to evoke pure stimulation where the spectator's mind flows as fluid and as flexible as the subject matter. The desk can be styled with different color schemes to appeal to different audiences and environments.
The colors bring out a sense of fun and creativity and the beauty of the stained natural wood invokes a sense of elegance and sophistication. The deviation point in contrast to conventional design is the juxtaposition of the curved lateral supports and the seamless radial cross pieces.
One's imagination is invited to wander into the various textures and curves, journeying through the rounded edges, mating supports and exploring the bended kerfed timber. The energy created in this piece evokes pure stimulation where the spectator's mind flows as fluid and as flexible as the subject matter. It's all about Perspective.
Design Solution
Bringing art and stimulation to the creative work space.
Size
1400 W x 700 D x 800 H (mm)
Materials Used
Plywood, aluminium
Green Notes
Plywood is environmentally friendly since it's a natural product made from a renewable resource.
Processes used in construction, including any new construction methods or applications adopted from other industry technologies 
The Perspective desk was designed using software such as AutoCAD, Fusion 360 and Vectric Aspire.
The cutting was done on a CNC routing machine, using materials such as MDF and low grade plywood for the protypes – then higher grade marine ply for the finished product. The pieces of the desk slot together like a jig saw piece and are the glued into place. The sides of the drawers have routed slots to allow for easy bending of the wood.
Also, the drawers are mounted on a single soft close slide rail underneath the drawer. The slide rails could not be mounted on the drawer sides (where they traditionally would be mounted) due to the curves in the desk.