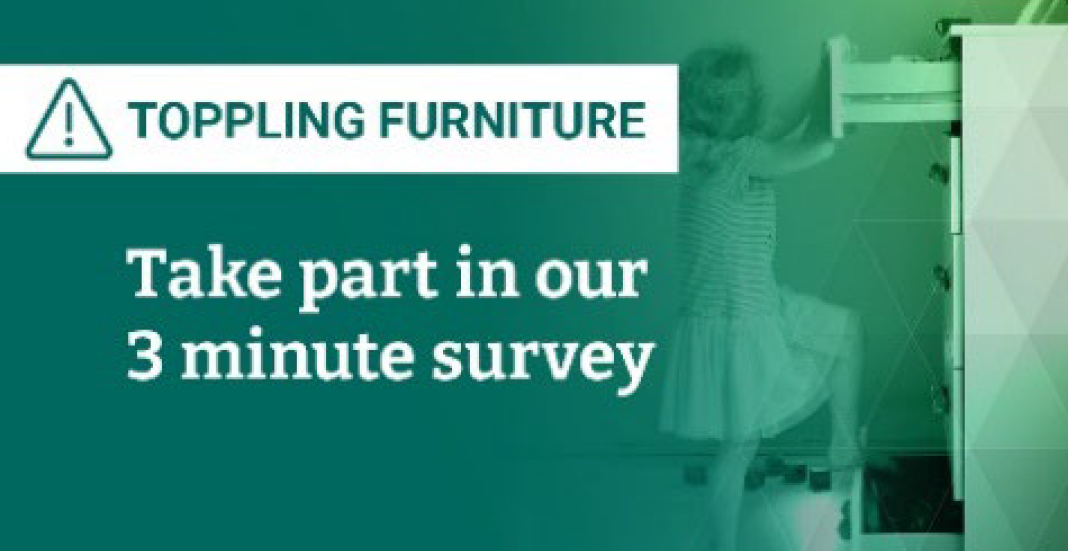 Toppling Furniture Safety Survey
The ACCC is aware of at least 28 deaths associated with toppling furniture in Australia since 2000, with over 900 injuries each year that require medical treatment. "Topping furniture" is furniture that has a risk of tipping over, causing injury or death, if unsecured. Freestanding storage furniture such as chests of drawers, wardrobes and bookcases pose significant risk of toppling and causing death/injury. The Australian Furniture Association is very concerned about the rising rates of injuries and deaths and is calling on all AFA Member businesses to respond to calls for action.
As part of their product safety priority areas, the ACCC would like to better understand consumer knowledge about the risks associated with toppling furniture and how to mitigate these risks. 
What can Australian businesses do to prevent Toppling Furniture?
The ACCC have released a short survey to gauge awareness of the safety issues associated with toppling furniture. The survey aims to identify areas of improvement and help the ACCC to effectively target future consumer communications.
The Australian Furniture Association is encouraging members to participate in the survey – it only takes a few minutes of your time, but is incredibly important in understanding consumer knowledge and how to prevent future incidents.
Take part in this survery HERE
The ACCC have provided the following preventative safety measures to consider, to reduce danger of toppling furniture:
Always secure free-standing furniture with an anchoring device
Never allow children to stand, climb or hang on doors, drawers or shelves.
Do not place things such as toys up high or on top of furniture where children may climb or reach up to get them
Never open all drawers of a unit at once or leave them open— consider adhesive child safety locks on drawers and doors.
Do not put heavy items in top drawers, shelves, or on top of furniture—place anything heavy down low
Avoid using furniture in ways it was not designed to be used, for example, don't put a TV on a thin table, desk or chest of drawers that isn't intended as an entertainment unit.
Always place televisions towards the back of entertainment units and secure them to the unit or the wall
More information about safe use and buying tips are available on the Product Safety Australia Website or HERE.