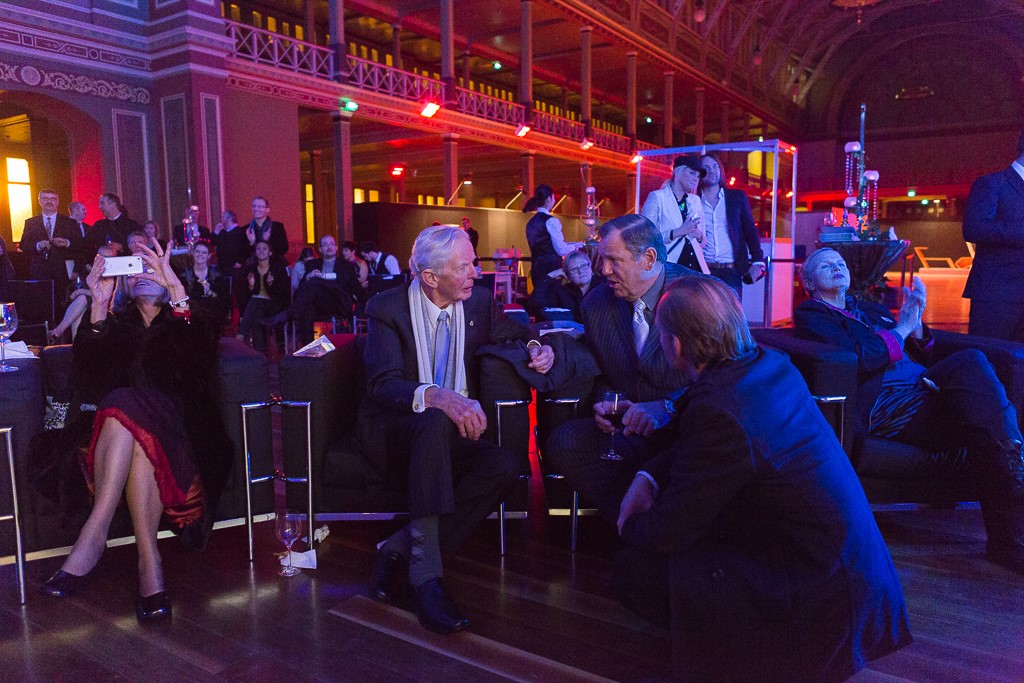 VALE – Australian Furniture Industry Master Ian Clive Howard (1923-2021)
The AFA Council, Members and Stakeholders are saddened to learn of the passing of a great founder and inaugural Master of the Australian Furniture Industry.
Ian Howard died on October 31st and Australia lost a remarkably accomplished man and an extraordinary survivor. Howard had survived childhood polio and double pneumonia, the Spanish Flu and World War II, including the D Day Landings, and finally Covid-19 in 2020, to die peacefully in his sleep at the age of 98 in 2021.
As an only child, he studied at Caulfield Grammar and matriculated top of his class in Maths 1 & 2 and Geography. After school he joined ICI as a Sales Clerk, but two years later he enrolled in the Royal Australian Army LHQ Survey Corps, and subsequently left to join the Royal Australian Navy as an ordinary Seaman. He enrolled in an Officer Training Course, emerging as Top Officer and accepted the opportunity to go on loan as a Sub Lieutenant to the Royal Navy.
After travelling to London, via America, in the early war years, he transferred to the destroyer HMS Impulsive and completed several dangerous convey escort missions with the Russian Fleet across the Atlantic.
The D-Day invasion of Normandy saw HMS Impulsive play a critical role as a floating command post off shore for senior commanders (Browning/ Dempsey) to assess progress of the landings by travelling along the Normandy beaches.
Howard's role in this significant world event was rewarded by the conferring of the medal of the Legion of Honour by French President Mitterrand in 2014.
For his role in the liberation of the Channel Islands he was promoted to Lieutenant at the age of twenty-two.
Howard's wartime wedding to Joyce Kemp in Lincolnshire in 1943, was a happy ending to his war service, which concluded on his return to Australia in October 1945, and finally resigning from the navy in 1946 to re-join ICI in his old job for six months.
Determined to establish himself in business, and inspired by his creative uncle Will Oyston, Howard started in manufacturing and marketing his uncle's revolutionary patented carpet sweeper in Bridge Road, Richmond. In moving to larger premises in Fisherman's Bend, he luckily acquired an operational children's furniture company. After training in upholstery and spray painting at Prahran Technical College, he developed a hands on manufacturing business, until it grew to fourteen employees and12000 square foot space and changed its name from OHC (Oyston, Howard, Charlesworth) to Aristoc Industries, then eventually moving to Glen Waverly into a newly built factory.
In 1957 Grant Featherston joined the executive team at Aristoc as Chief Design Consultant. By December 1967 the Comopany had won fifty-seven Good Design Awards from the Industrial Design Council of Australia. A further major accomplishment for Aristoc was the design and supply of two hundred and forty 'Talking Chair" (a Robin Boyd concept) for the Australian Pavilion at Montreal Expo in 1967.
When Aristoc was integrated with Australian Controls Fler Subsidiary in 1968, Howard became Managing Director of the new group, and eventually Aristoc -Fler became Furniture Makers of Australia.
Retiring in 1976 to focus on Featherston Interiors, Howard discovered that Fricker Brothers joinery company in Adelaide had spare capacity. Thereafter, the design of 'System One', the first Work Station System in Australia, began a whole new chapter. Granting distribution rights to Sydney Company, Co-ordinated Design & Supply (suppliers of seating to the Sydney Opera House) saw business boom, so that in 1984 the three companies merged to establish Co Design Pty Ltd. – the preeminent furniture company in Australia at the time, with sales topping $100 million.
He retired from the board in 1986.
Howard had significant involvement in many community organisations and particularly the YMCA, where he became involved back in 1947, and in 1952 he joined the National Board, eventually being appointed Life Governor of the National Council in 1988. He was Chairman of Trustees of the YMCA Super Fund and through his astute stewardship he made significant gains to the fund's profitability.
His significant achievements were recognised widely by many awards, such as an Honoury Fellowship of the Industrial Design Council of Australia, the Inaugural Australian Furniture Industry 'Master of the Year Award' (2014), and Induction into the Design Institute of Australia's Hall of Fame (2016).
He was an accomplished athlete at golf, tennis, pennant squash and sailing, and he and Joyce enjoyed extensive travel in Europe, the USA, and Africa over several decades.
He leaves behind countless friends and his loving family Janice, Pamela and Paul, with grandchildren Bernard, Avery, Hilary and Diana, and great grandchildren Olivia & Alexander, Maddison, Edan and Aren.
A design pioneer, talented entrepreneur, caring and compassionate extraordinary man has left us.