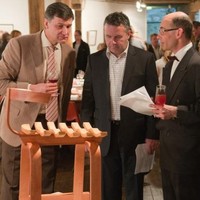 FINALIST IN – Emerging Designer – CREATIVE VISION
Designed By – Paul Allen
Business Name – Pallen Designs
Web – http://pallendesigns.info
Design Inspiration
This was my first effort at using two plane-wave and one compound-curved veneered panels, all vacuum-pressed veered to create the Plane Waveform Coffee Table.
The first of three tables – the others being my Convex and Concave Waveform Coffee Tables, is my way of using the full potential of vacuum-pressing plies to inspire memories of wave-riding (or surfing) from my childhood.
Design Solution
Using Vacuum Tables under sealed rubber sheet over carved timber moulds; uncluttered by clear glass tabletop.
Size
Glass tabletop 450×950, 470 high
Materials Used
Bendy Ply, Eucalypt veneer, toughened glass; compacted fabric feet, threaded steel rubber-covered glass mounts
Processes used in construction, including any new construction methods or applications adopted from other industry technologies 
Table Vacuum press under rubber sheet; hand-shaping for timber joins as well as surface finishing