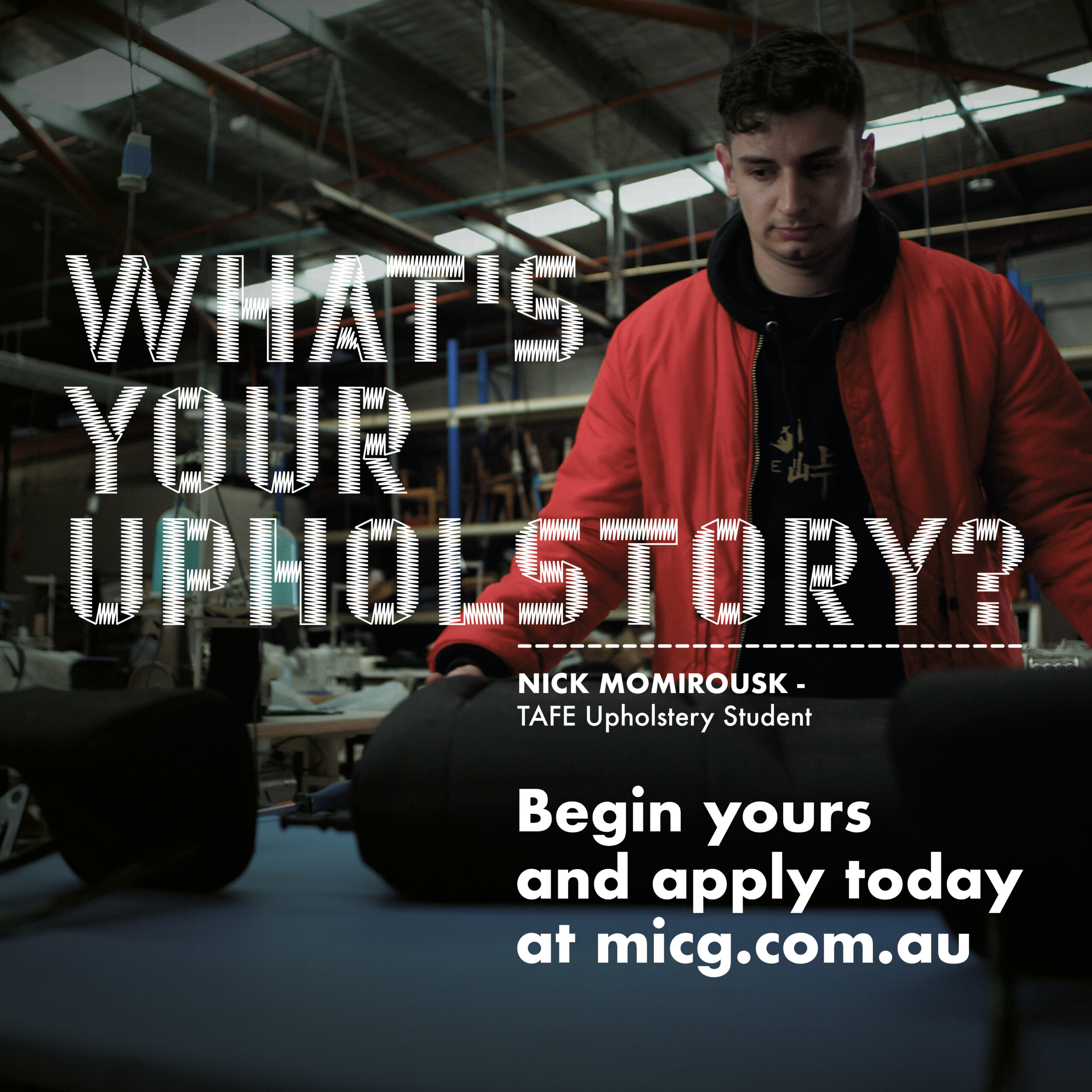 Take A Seat With Us
With the Multi Industry Collaboration Group's (MICG) 12 week job skills program, 'Take A Seat With Us' officially launching last month, the Australian Furniture Association (AFA) are proud to share the official marketing campaign for the project.
'What's Your Uphol-story' focuses on the story behind the people that make up the industry.
This new upholstery skills program consists of students, teachers, and those already working within the industry are from all walks of life – made up of different ethnic and socioeconomic backgrounds, different ages and genders. Each and every person has a fascinating story to tell, so we are using these stories to give prospective students a taste of where upholstery/textiles/auto and marine trimming can take them, with the aim to inspire them to start creating their own story.
With so many people unfamiliar with possible career opportunities held across the industries, as well as being unaware of how big the industries truly are behind the scenes, What's Your Uphol-story aims to bridge the gap and show the endless possibilities and just what a career can look like.
VIEW VIDEO HERE:
Teaming up with the Victorian Government and Holmesglen Institute, this course is so unique it is simply not being offered any where else in Australia.
The AFA, as a leading industry voice, recognise the skills and labour shortage present now more than ever, and with backlogs continuing to rise across the caravan, boating, furniture, auto and specialised textiles industries, a course such as Take A Seat With Us is the perfect transition to get more labour and apprentices job ready in an industry that desperately needs the help.
The next course will officially begin 13 September 2023, at Holmesglen Institute in Chadstone VIC. There will be limited courses running across the remainder of 2023 and 2024.
For more information on the Upholstery skills program, or to apply, please visit www.micg.com.au